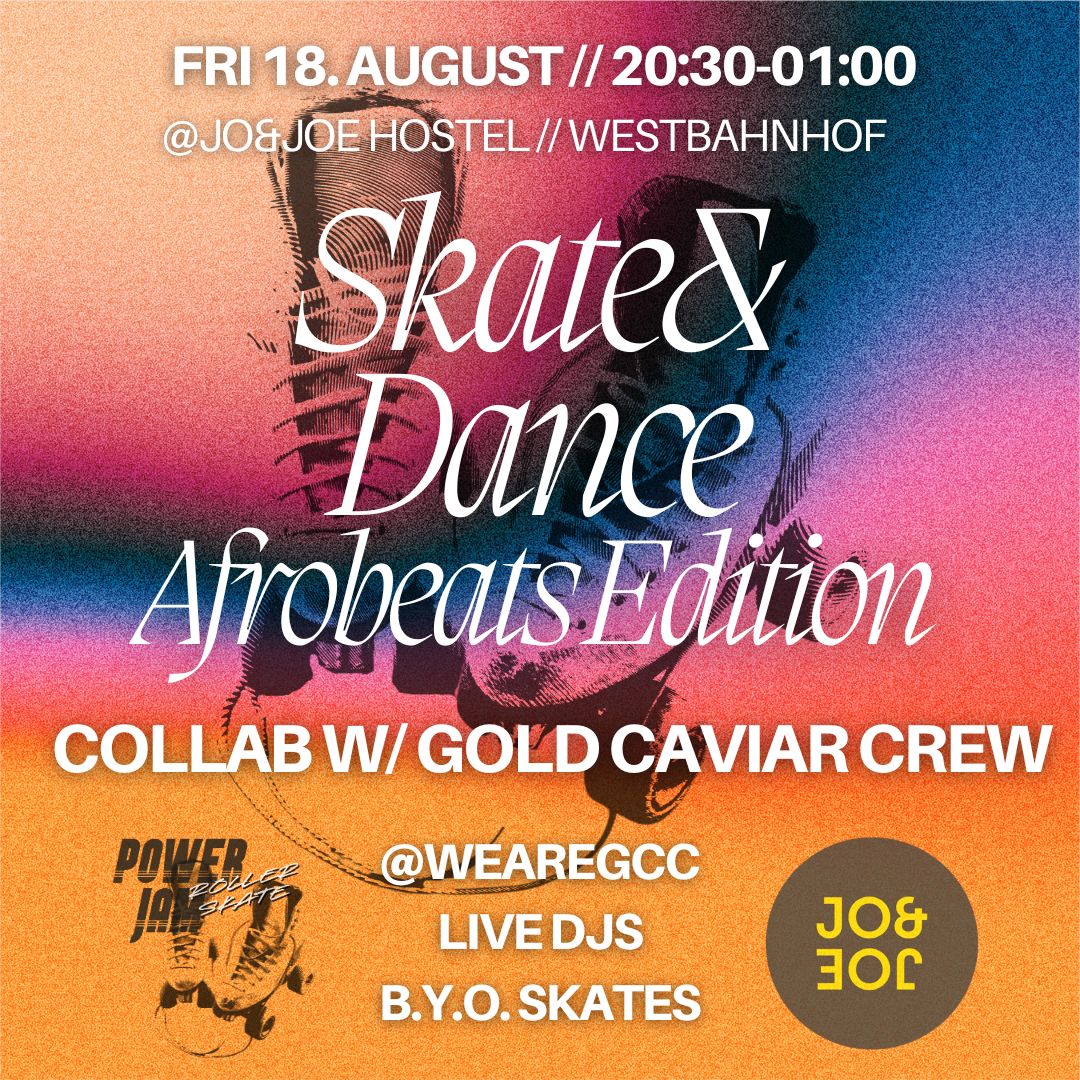 Skate & Dance Afrobeats
Afrobeats Collab with Gold Caviar Crew
Powerjam and @wearegcc have been teaming up lately to spread the skate love to the African diaspora community in Vienna. Rhythm, jam, JB and other roller skating styles are products of the African American skate community & culture in the US, and the music – THE MUSIC! – is key! So how about we bring the Afrobeats vibe to a Skate & Dance night and get our roll, step and shuffle on together!? GCC is in charge of the playlists and live DJs, Powerjam is helping infect all you lovers of dance with the skating bug!
Information
DATE: Friday, August 18, 2023
TIME: 20:30/8:00PM – 1:00/1:00AM
LOCATION: JO&JOE HOSTEL – Westbahnhof – Europaplatz 1/6, 1150 Wien
Take the elevator at IKEA up to the hostel reception level
ENTRY: FREE!
A NOTE ABOUT BUYING FOOD & DRINKS: The Jo&Joe hostel does not take cash payment at the bar! You need to pay with a bank/debit/credit card.
DJ LINEUP >>>>>
DJ am8one 
DJ Valencee 
DJ Tonica 
Bring Your Own Skates or Dancin' shoes
Skate & Dance events are a BYOS – Bring Your Own Skates – event. If you are a member of the @wearegcc community, contact @miss.jay.wills for info about skates!
The location is great for a mix of dancing and jam/shuffle/rhythm skating, but is not a large enough area for true rink-style skating. These events are therefore NOT "ROLLER DISCOS" in that sense.
No skates?! Not a skater?! Well, get your dancin' shoes on – this is a mixed dance floor for everyone! Come groove!