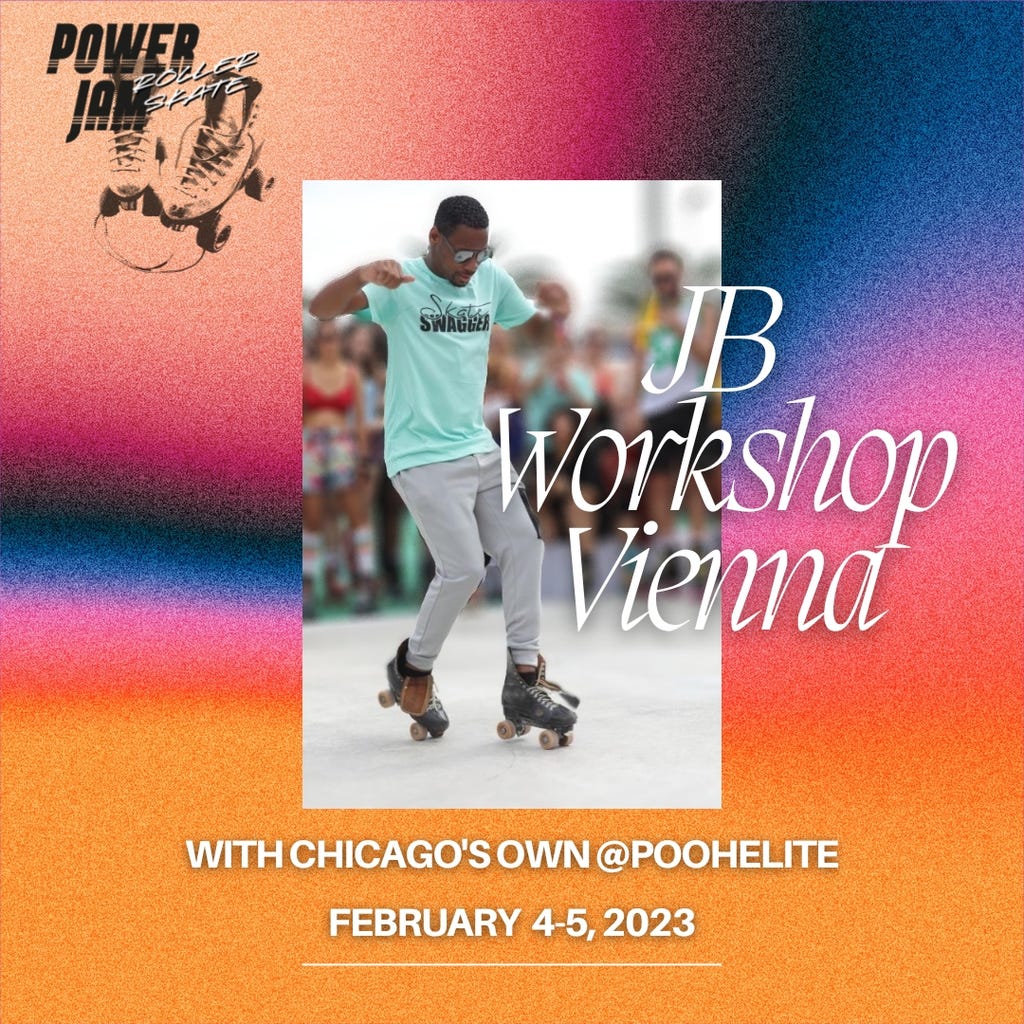 JB WORKSHOP VIENNA – WITH POOH FROM JB ELITE CHICAGO
GET ON THE GOOD FOOT!
Powerjam is excited to welcome a guest skater for the very first time for a workshop! We bring @poohelite from @jbelitechicago to Vienna for two days to learn the basics of the indescribable "smooth-and-in-the-groove" JB skate style!
WHAT IS JB?
The JB style (JB stands for James Brown) was born and developed in Chicago, where it is more alive than ever. Thanks to social media, especially @jbskatechicago, we get to watch, love and study skater*s like @smoothgoddess_ , @therealjbskater, @poohelite and @lifeofmalik as they show us how it's done in the Windy City today. But on the 4th and 5th of February 2023 we bring Chicago to Vienna for a small scale workshop weekend where we will learn from one of the best in three sessions.
WORKSHOP SESSIONS
Each session stands alone, but builds on the previous session. The first session is beginner friendly, the second session adds some moves and the third session focuses on combining moves with increased complexity. Basic skating skills are required (i.e. you can already skate, safely glide on one foot and brake).
PROGRAMME
Saturday 4.2.2023 15:30-17:30 beginner / basic moves
Sunda 5.2.2023 12:00-14:00 intermediate / build up
Sunday 5.2.2023 14:30-16:30 advanced / movement combinations
TICKETS
3 sessions – each session can be booked separately
Limited places for each session!
PRICES
Powerjam members (semester courses and Sunday love):
20€ / Session (+ ticket fees)
Non members:
25€ / Session (+ ticket fees)
Use the NTRY ticket link to buy your tickets: TICKETS
Tickets are available from Friday 23.12.2022, 8:00.
Hourly Schedule
JB Session 1 - 4.2.23
15:30

-

17:30

beginner / basic moves
JB Session 2 & 3 - 5.2.23
12:00

-

14:00

intermediate / build up
14:30

-

16:30

advanced / movement combinations